The Cottage Peking Duck Pt 1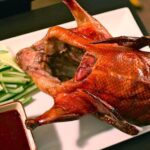 Duck:
Sauce:
For the duck: Prick the duck all over with a small knife or fork. Carefully pour hot water over the duck to rinse. Discard the hot water. Place the duck on a rack in a roasting pan and dry all over by patting it with paper towels. Sprinkle the duck with salt and pepper and leave it in the roasting pan until ready to cook.
In a small bowl, mix together the honey, 6 tablespoons water, five-spice, soy sauce and brown sugar. Brush the duck all over, inside and out. Let dry for about 10 minutes and then brush again. Repeat this process until you have used all but 4 to 5 tablespoons of the glaze (reserve this glaze). Ideally, let the glaze marinate on the duck overnight, leaving it uncovered in the fridge.
Preheat the oven to 350 degrees F. Place the duck in the oven and cook for 45 minutes. Flip the duck over, baste with the reserved glaze and cook until the skin is crisp and golden brown, another 45 minutes. Make sure you check halfway through that it is not getting too dark. If it is getting too dark before half the cook time is up, turn your heat down and lower the rack in the oven. When the duck is cooked, remove from the oven and let rest while you make your sauce.
For the sauce: In a small bowl, mix the cornstarch with 1 tablespoon cold water and set aside. Next, heat a pan or wok over medium heat and add the hoisin, sugar, sesame oil and soy sauce. When the sauce starts to bubble slightly, add the cornstarch mixture and stir well to thicken. Set aside and let cool. Carve and slice some duck. Place a teaspoon of the sauce in the center of each pancake, add a couple slices of duck, garnish with the scallions and cucumbers and serve immediately.