The Cottage Cafe (Heirloom Tomato and Vidalia Onion Pie)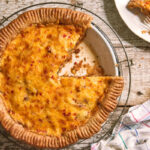 Ingredients For tomato-vidalia onion pie
1

deep dish frozen pie crust

1 sm

vidalia onion, chopped

4 slice

bacon, fried crisp and crumbled

3/4 c

sharp cheddar cheese, grated

3/4 c

mozzarella cheese, grated
How To Make tomato-vidalia onion pie
1

Preheat oven to 350 degrees F.
2

Slice the peeled tomatoes and drain the slices on paper towels.
3

Place the drained tomatoes into the pie shell. Top with chopped onion. Sprinkle with basil.

4

Combine bacon, cheddar and mozzarella cheeses, and mayonnaise. Add a little more mayonnaise if the mixture is too stiff. Spread the mixture over the top of the pie.
5

Bake for 25 minutes or until bubble and golden brown. Cool slightly before slicing.