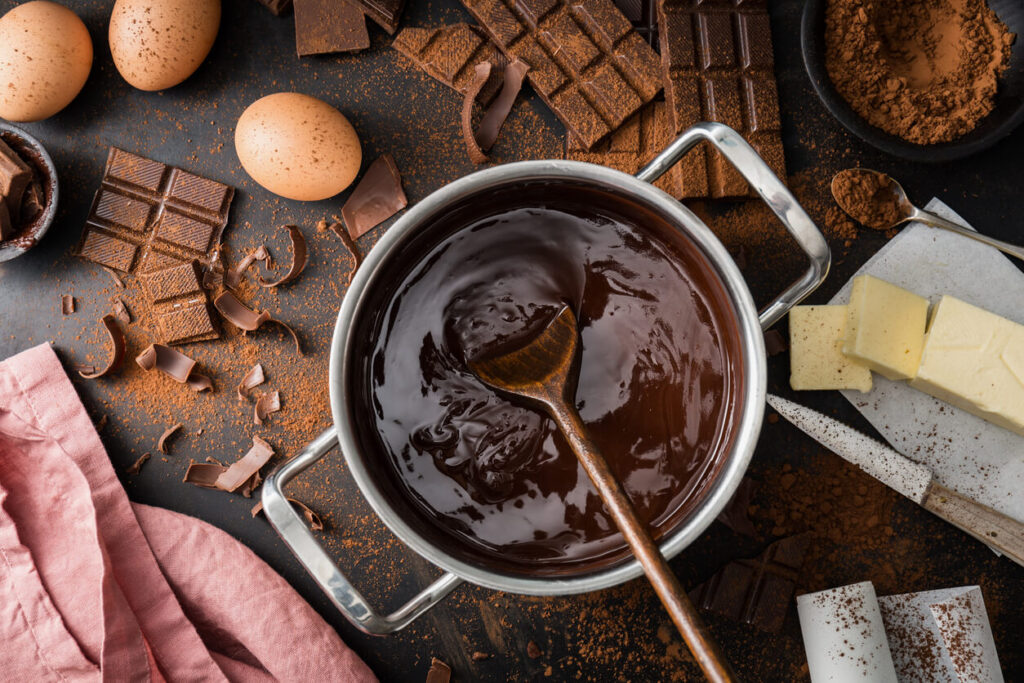 Our Bakery's Top Tips for Baking with Chocolate
They say that cooking is love made visible, and there's perhaps no better testament to that quote than the world's favorite dessert: chocolate. Crack open a gooey chocolate chip cookie, bite into a homemade brownie, or cut into a chocolate lava cake, and you'll know what we mean.
If you're like us, sharing what you love with the people you love this Valentine's Day means baking a whole lot of chocolaty treats. That's why we're sharing a few of our bakery's tips for baking with chocolate that are bound to make your sweet treats even better.
Make Sure All of Your Surfaces and Tools are Completely Dry
A single drop of water can completely ruin a bowl of melted chocolate. Why? Water can act like a glue that causes chocolate to seize – or clump up. It's vital that you dry all of your tools and surfaces before you start baking.
Skip the Chips
Unless a recipe specifically calls for chocolate chips, keep them in the pantry and use real chocolate instead – especially if a recipe calls for melted chocolate. Contrary to popular belief, chocolate chips are actually not designed to melt, and they have a less-intense flavor than the real deal. Chopping your own chocolate chunks might take a little extra effort, but it's well worth it.
A Serrated Knife is the Easiest Way to Cut Chocolate
If your chocolate chip cookie recipe calls for big chunks of chocolate, a serrated knife is the best way to cut an otherwise tough chocolate block down to size.
Espresso Powder Enhances Chocolate's Flavor
Amp up the chocolaty flavor by adding a shot of espresso or a couple of spoonfuls of extra-dark coffee (or espresso powder) into your batter. Your brownies might have an extra kick, but they won't come out tasting like coffee.
Water Baths are a Foolproof Way to Melt Chocolate
Melting chocolate in the microwave can be tricky: take it out too soon, and you'll have a thick, clumpy paste. Leave it in for too long, you run the risk of burning your chocolate. That's why we recommend melting chocolate in a water bath instead. First, place a wide skillet with about one inch of water on a burner. Then place your chopped chocolate in a heatproof bowl (stainless steel or tempered glass), and set the bowl directly in the water. Bring the water to a simmer, then turn off the flame and let the chocolate sit until it is melted.
Use Vegetable Oil to Thin the Chocolate
If you're trying to dip something in chocolate (like strawberries) but the chocolate is too thick, thin it out with a bit of vegetable oil.
Don't have extra time to spend in the kitchen? This year, skip the store-bought chocolates and treat your sweeties to a selection of house-made pastries from our bakery. Browse our pastry case Mon-Fri (9 am-3 pm), Sat (8 am-3 pm), and Sun (8 am-2 pm), or call (843) 757-0508 to place a custom order with our bakery.