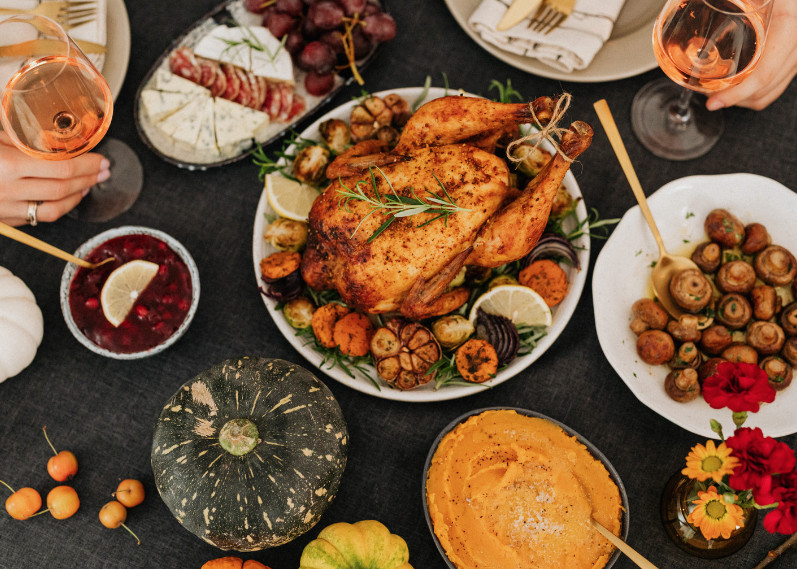 Secrets for a Stress-Free Thanksgiving Dinner
Behind every family photo of loved ones gathered around a Thanksgiving dinner table, there's one person who's spent two days slicing, dicing, baking, and basting. And if you're reading this, we're guessing that person is you.

If you've ever cooked a full Thanksgiving dinner, you know that it's easy to become completely consumed (a.k.a. totally stressed out) with getting every aspect of the meal just right. The kitchen choreography needed to pull off the meal leaves most home cooks in a state of panic in the days before Thanksgiving, but there's a way to approach the big day that saves you precious time and energy while still getting a delicious meal on the table.

Don't Do It All Yourself
You don't have to make everything yourself to enjoy a made-from-scratch meal. If the prospect of making multiple trips to the grocery, spending long hours in the kitchen, and hosting over 10 hungry people sounds overwhelming (which, yes – yes it does), then look no further than The Cottage's Thanksgiving menu. Our gourmet stuffing, green bean casserole, and classic pumpkin pie are sure to have your guests going back for seconds, and yes, you can even say that you made it yourself.

Cook Ahead
This one seems like a no-brainer, but you might be surprised how many people wait to make mashed potatoes and pies on the morning of Thanksgiving. Mashed potatoes reheat beautifully in the oven or a slow cooker. If you aren't stuffing the bird, the dressing can be made ahead and baked right before dinner. Almost all the desserts can be made ahead of time. Even if you can't cook the whole dish, you can do prep work ahead of time. Peeling potatoes, pre-measuring ingredients, and layering the casserole can save you hours on the big day.

Have Tasks Ready for Your Sous Chefs
Instead of pushing friends and family away when they're willing to lend a hand, let them help out in the kitchen so you can focus on one task at a time. Just make sure you have pre-planned tasks that are appropriate for our sous chefs. Serving a veggie tray? Even your cousin Becky can arrange baby carrots on a plate while she's sipping her third glass of wine. The kids can help you crack eggs and whisk gravy, and your S.O.? Two words: trash duty.

Take Breaks
At the risk of sounding corny, carving out time for yourself is just as important as carving the turkey. If you're on your feet all day and don't have a bottle of water nearby while you're over a hot stove, you'll be so exhausted by dinner that you won't fully appreciate the meal you worked so hard to make. Worse, you'll be spending less time with your guests on the day that celebrates gathering together. If you have to trade baking a third pie to watch part of the football game, do it – you won't regret it.
This year, bring The Cottage home for Thanksgiving dinner! If you're joining us for breakfast, brunch, or lunch soon, tell a hostess, server, or manager that you would like to place a Thanksgiving order. They'll bring the order form out to you. Mark your quantities and leave the rest to us! Call (843) 757-0508 for more information.