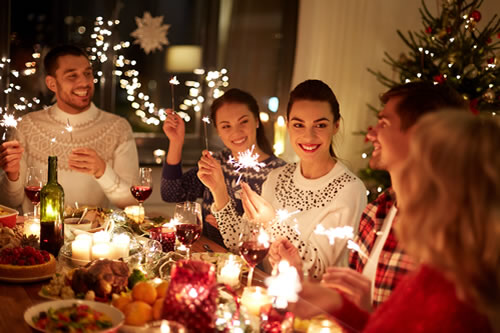 Not Sure If You Should Hire a Caterer for Your Holiday Party? Read This.
It's that time of year again: party planning season. Decking the halls and donning your ugliest Christmas sweater is the fun part, but whether you're hosting Friendsgiving at your house or have family flying into town for the holidays, cooking for a crowd is never easy. While everyone is mixing and mingling in the living room, you'll be in the kitchen attempting to arrange a charcuterie board, baste the birds in the oven, and keep your little "elves" away from the cookies all at the same time. And your niece? Oh yeah – she's vegan now.
If this sounds a little too much like the ghost of Christmas future, then you should consider hiring a caterer for your holiday party. And if the thought of cooking a three-course meal for 10 isn't enough to make you want to order out, here are three other reasons why you should give yourself the gift of some outside help:
Top quality food (that you don't have to cook). Even experienced home cooks have a hard time pulling off a full buffet by themselves – and not just because few people have that many serving spoons. It could take hours of cooking and cleanup to feed everyone on your guest list. And if you decide to host a potluck, there's no guarantee your guests will love Marjorie's ambrosia salad. Hiring a caterer ensures that the food will be top-notch (in both flavor and quality) without you spending hours standing over a hot stove. And your vegan niece? The caterers can make sure there are options for her, too.
Professional service. Imagine the perfect holiday party: the food appears on-cue, each dish is beautifully presented, and there's no shortage of napkins. With a caterer, you can expect your food preparation, delivery, and setup experience to be as seamless as if you were at a restaurant. And you won't have to wonder if the deviled eggs have been sitting out for hours. Catered food is prepared according to restaurant health and safety standards, too.
A sophisticated experience. During the holidays, folks look forward to dressing up, mixing and mingling with a cocktail in hand, and indulging in good food. You cook dinner almost every night, so why not treat yourself and your guests to a chef-prepared meal? Catered food (and possibly a signature cocktail) will instantly elevate your at-home holiday party.
This holiday season, let us help you throw a party that your guests will still be talking about well into 2022. Order holiday classic dishes like sweet potato casserole, stuffing (made the long way), and pumpkin pie off our Thanksgiving menu, or place a special order of festive sweet treats that will wow your coworkers at the annual office party. Give us a call at 843-757-0508 to learn more about our catering services.