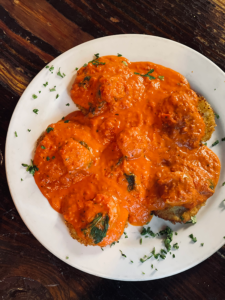 Ten Surprisingly Delicious Southern Foods
From creamy pimento cheese to crispy fried pickles, the South undoubtedly has some of the most decadent, delicious, and downright bizarre cuisines in the nation. Born from a rich mix of culinary traditions and ingredients you might not find outside of the bottom states, Southern food is truly unlike anything else – which tends to confuse visitors.
While you might not see recipes like Ambrosia salad or tomato pie outside of the South, don't knock 'em until you try 'em, especially if you're visiting the Lowcountry. We've rounded up ten surprisingly delicious Southern recipes for you to try this month.
Shrimp and Grits
Creamy, savory, buttery, and rich are just a few words to describe one of our all-time favorite Southern foods: shrimp and grits. If you've never started the day with a bowl of stone-ground grits topped with local shrimp and scallions, you're missing out.
Fried Green Tomatoes
Red tomatoes? Never heard of them! For this dish, unripe green tomatoes are sliced and dipped into a cornmeal batter and given a good fry. These crispy delights are the perfect summer snack, especially when they're served in our Cajun tomato cream sauce or with cool ranch dressing.
Ambrosia Salad
It's best not to ask too many questions when it comes to this dessert. One bite of this orange-grapefruit-coconut-cherry-marshmallow concoction says it all.
Fried Chicken and Waffles
Is it breakfast? Lunch? Both? Neither? Whatever it is, fried chicken and waffles have a permanent spot in our hearts and on our Sunday brunch table. Dunk a forkful of battered chicken and fluffy Belgian waffle in maple syrup for the ultimate sweet-and-savory flavor experience.
Pimento Cheese
This creamy, spicy cheese spread is the glue that binds the South together. Spread it on crackers or grill it between bread to taste the sharp cheddar, or add a dollop to your basic bowl of shrimp and grits for a next-level breakfast.
Pepper Jelly
Just add cream cheese and a stack of crackers to assemble a pepper jelly-based, fancy-ish, Southern-style snack.
Tomato Pie
Before you imagine a disaster that ended up on your Thanksgiving dessert table, picture this: a flakey, puff pastry crust, layers of heirloom tomatoes, four cheeses, four herbs, and crème fraîche. Need we say more?
Possum Pie
Speaking of unlikely pies, possum pie is both completely delicious and completely roadkill-free. Made with chocolate, pecans, and cream cheese, this dessert is perfect for anyone with a sweet tooth.
Pineapple Casserole
When you read the ingredients list – pineapple, Cheddar cheese, crushed Ritz crackers – you may be tempted to pass on this particular dish, but don't you dare. Mind your manners and start scooping.
Sweet Tea
It's not summer in the South unless you're sipping a glass of sweet tea on a sunny patio. If you're ordering and you want your tea unsweetened, you have to say so. (You've been warned.)
No vacation would be complete without sampling the local foods. Join us at The Cottage for classic Southern dishes with a little Lowcountry flair.
Join us for breakfast Mon-Fri (9-11 am) and Sat (8-11 am), for lunch Mon-Sat (11 am-3 pm), or for Sunday brunch (8 am-2 pm). We're excited to see you, seat you, and serve you some delicious Southern cooking!