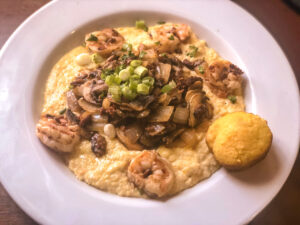 The Nitty-Gritty Details: Everything You Never Knew About Grits
There are few foods more Southern than grits. This warm, creamy comfort food has been a Lowcountry breakfast staple for centuries, but outside of the South, little is known about this quintessential meal. Here's everything you never knew about grits.
So, what are grits?
Grits are often incorrectly described as "savory oatmeal." Grits are made from dried corn kernels that are ground into smaller bits. They are similar to Italian polenta, but the two are typically made from very different types of corn and using different grinding methods. Polenta is coarse enough to be shaped into a cake while gits should have the consistency of a thick paste when cooked.
Types of grits include:
Stone-ground grits can be hard to find outside of the South, but they seem to be making a comeback. This is the most traditional type of grits as they're made almost the same way that they were in the 19th century.
Hominy grits are made by removing the hull and germ of the corn.
Quick grits have a finer grind than regular grits. This allows them to cook faster and last longer on store shelves.
Instant grits have been pre-cooked and dehydrated. While instant grits work in a pinch, we would rather cook our grits with the love and care they deserve.
Where did grits come from?
Grits themselves have their roots in Native American culture, but it is believed the name "grits" comes from the Old English word "grit" which means "coarse meal." Gristmills, which turned locally grown corn into grits and cornmeal, used to be numerous in the South but were replaced by steel-rollers in the mid 18th century as the food rose in popularity. Grits' dense nutritional properties and inexpensive price made it staple on Southern pantry shelves.
What makes our grits special?
Like all good Southerners, we take our grits seriously at The Cottage. It all starts with a bed of cooked and buttered-to-perfection grits, then we top it with locally sourced Lowcountry shrimp. But we don't stop there: creative toppings like brisket, pimento cheese, and bacon have made our Shrimp and Grits stand out at the Beaufort Shrimp Festival and other food competitions.
Foodies know that the best part of traveling is eating like a local. If you're visiting the Lowcountry (or are looking for a flavor sensation in your own backyard), put our award-winning Shrimp and Grits on your must-try list. We serve grits over lunch Mon-Sat (11 am-3 pm) and at Sunday brunch (8 am-2 pm).