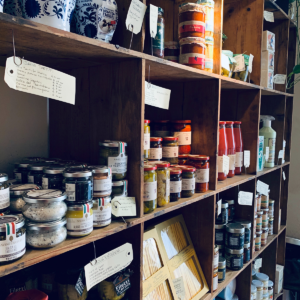 How to Stock the Essentials in Your Southern Pantry
We get many questions from customers about what our "secret ingredients" are, so we're finally spilling the beans: we don't have any. Really. Southern cooking was born out of necessity and uses simple ingredients like butter, cornmeal, and pecans to create comforting, wholesome meals. So while we put a twist on classic meals like our Cajun Jambalaya, Pimento Shrimp and Grits, and Lowcountry-inspired Fried Green Tomato Avocado Caprese salad, our dishes begin with the basics.
Just like all good Southerners, we hate to turn people away empty-handed, so we've put together a list of Southern cooking pantry staples you have to have on-hand.
Sugar. Most Southern dishes are indulgent, which is why having a bag of classic cane sugar in your pantry at all times is a must. This sweet staple isn't only used for cobblers, pies, and cakes but can be used to make sweet tea and barbeque sauce, too.
Cornmeal. Where else do you think cornbread comes from? You can also use cornmeal to make delicious pancakes and cornmeal-crusted chicken.
Grits. Not to be confused with cornmeal, grits is another ground corn product that's the go-to breakfast item in many households. Keep it simple by boiling your grits and topping them with butter, or jazz up a basic bowl with cheese, bacon, or shrimp.
Pecans. If you picture the pecan pie recipe your family has had for generations, you'll know why these rich, buttery nuts made the list.
Bourbon. This bold, caramel-sweet, Kentucky-born booze is essential for making classic cocktails like a Mint Julep or Sazerac and as a glaze or addition to your favorite desserts.
Barbeque sauce. This is the ultimate way to make any cut of meat finger-lickin' delicious.
Hot sauce. Some like it hot, and if you're one of those people, a healthy dash of hot sauce will take things to the next level.
Jam. We top our flakey buttermilk biscuits with a pad of butter and delicious jam.
Beans. Yes, the Southern pantry does include some vegetables. From baked beans and pinto beans to red beans and black-eyed peas, legumes are a great staple in your pantry.
Honey. Use it as a natural sweetener or as a complement to savory or spicy marinades.
Lard. The rumors are true: lard is a necessity in the Southern kitchen. You'll be happy to have it when you want to make a pie crust or fry up some chicken.
Mayonnaise. It's not just for potato salad, slaw, or deviled eggs; any Southerner will tell you that spreading mayo on both sides of your bread is the way to make a perfect grilled sandwich.
At the Cottage, we pride ourselves on making elevated dishes that begin with fresh, local ingredients. Are you getting hungry? Join us for breakfast Mon-Fri (9-11 am), Sat (8-11 am), or for Sunday brunch (8 am-2 pm). We're also open for lunch Mon-Sat (11 am-3 pm). We can't wait to see you soon!