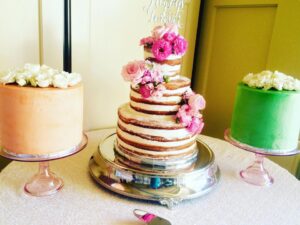 The Top Wedding Cake Tips No One Tells You
From blow-out receptions to boho elopements, wedding trends have changed a lot over the past few years. But there are still a handful of key elements that appear in almost every American ceremony: a white bridal dress, the exchange of wedding rings, floral arrangements, and the cake.
Whether you don't know much about wedding cakes (besides the obvious fact that they're delicious) or it's high on your "must-obsess-over" list, our guide to picking the perfect wedding cake has you covered. From budgeting to flavor-picking, find answers to all your wedding cake questions below.
Choose the right baker. Even if Aunt Cindy has offered to bake your wedding cake twice, it's usually best to order from an established bakery with a reputation for crafting outstanding cakes. That way, you're guaranteed to celebrate with a slice of cake that looks as great as it tastes. The bakery should be located as close to your wedding venue as possible for ease of delivery and ultimate freshness. Just make sure you understand the timing of creating a wedding cake. Between initial consultations, tastings, and test cakes, the design and baking process can take up to three months. Book early so the bakery can accommodate you!
You have to go in for a tasting. We shouldn't have to twist your arm too much here. At tastings, clients are invited into the bakery to sample slices of wedding cake, as questions, and review portfolios. This is an excellent chance to make sure the bakers understand your theme or design choices and that they're genuinely excited about your wedding day, too.
Have a budget in mind. Don't get us wrong, blood orange filling and brown sugar buttercream are delicious, but you don't want to base all your decisions on a sugar buzz. While most wedding cakes are priced by the slice, complicated flavors and hand-crafted details can also add up. Having a handle on your budget will help you prioritize your choices. That being said…
Consider the details carefully. Icing, flowers, and other confections may not seem as important as the cake batter, but they will have an enormous effect on the taste, quality, and design of your cake. For example, if you're given the choice between fondant and buttercream, consider the weather. Buttercream is tastier but is more likely to melt in an outdoor reception. Fondant is more likely to hold up in the heat. Flowers and hand-piped designs can be used to tie together the overall theme of the wedding, which is why they should be chosen with care.
Make a detailed delivery plan. Cake delivery takes coordination (and usually a refrigerated van), so give yourself peace of mind and opt to have your cake delivered. Complex cakes may not necessarily arrive in final form, so allow time and space for assembly. And once the masterpiece arrives, make sure the transportation team knows exactly where it will be displayed at the reception.
Top it off. Cake toppers run the gamut from traditional figurines to theme-specific symbols. Choose something that represents your relationship, like a meaningful quote or clay model of you and your pets, or get creative with a cascade of icing ribbons or a family heirloom.
Have your cake and eat it too. Take a break from mixing and mingling to celebrate your big day with a slice of cake. You deserve it! If you're worried about not getting the chance to try the cake (besides the bite you feed each other), ask your baker to bake a mini-cake for you and your partner to enjoy later.
Whether you got engaged over the holidays or postponed your 2020 wedding, let us bake you a cake worthy of your big day. Celebrate your Lowcountry wedding with a made-from-scratch cake crafted to fit your theme, tastes, and reception size. Give us a call at 843-757-0508 to schedule a free consultation, or click here to view our exquisite wedding cake gallery.