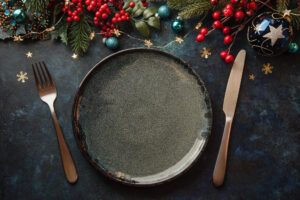 Eight Foods for a Classic Southern Christmas
If there's one region of the United States that "does" Christmas well, it has to be the South. In true Southern fashion, we go big (and go home) for the holidays. What we lack in cold weather, we make up for with our distinctive traditions – including festive foods. Here are eight festive foods you can expect to see at a Southern holiday dinner.
Shrimp and Grits. This Southern classic is the perfect combination of creamy, spicy, and savory. As an appetizer or main course, this dish is a lively way to add seafood to your holiday spread. We put a twist on our award-winning shrimp and grits by adding brisket to the Dirty Shrimp and Grits, pimento cheese to the Pimento Shrimp and Grits, and andouille sausage to the Ode to Charleston Shrimp and Grits.
Sweet Potato Casserole. A golden-brown sweet potato casserole is a staple side dish in the South. A topping of toasted marshmallows, chopped pecans, and a dusting of brown sugar make for a decadent holiday feel.
Jambalaya. A hearty, homemade jambalaya is a sure way to bring everyone to the table. We make our Cajun Jambalaya with chicken sausage, shrimp, pepper, onion, and tomato and serve it over rice with cornbread.
Biscuits. No Southern table is complete without a basket of warm biscuits, especially a holiday table. From soups and stews to fried chicken and beyond, these buttery delights complement most any dish.
Pot Pies. In our opinion, pot pies are the ultimate comfort food. Using inspiration from classic Lowcountry flavors, our Crab, Corn, and Bacon Pot Pie (with crème fraiche and scallion topping) is a crowd-pleaser.
Collard Greens. Collard greens are a soul food favorite that tastes great at any time of year, but there's something special about making them from scratch over the holidays. Try using bacon bits, shrimp, or sauteed onions as mix-ins!
Pecan pie. A rich and chewy pecan pie is one of the South's most iconic desserts. We don't feel guilty about having a second (or third) slice of our Southern Pecan or Triple Chocolate Pecan pies when it's the holidays.
Coconut Cake. We're nuts for coconut cake! If you've never tried it before, this light, fluffy dessert tastes like an island vacation in every bite.
This holiday season, let us help you throw the party your guests will still be talking about in 2021. Make the season less stressful by bringing gourmet dishes from The Cottage home for the holidays with you! Whether hosting a (socially distanced) holiday gathering or have family heading into town, we can help you plan a menu or dessert selection that's sure to impress.
Call us at 843-757-0508 or click here to learn about our catering services.