The Cottage Cafe (Pitting a Cherry)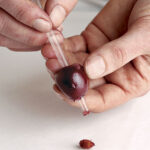 Don't have a cherry pitter? Not to worry! Learn how to pit cherries without a cherry pitter using two items you probably have in your kitchen!

It's cherry season, and you know what that means, right?
Lots of pits.
That is, there are a lot of pits if you plan on making something sweet from the cherries you've scored from the market or cherry farm! Homemade cherry pop tarts, perhaps? Rhubarb cherry crisp?
Well, pitting cherries doesn't have to be the pits if you don't have a cherry pitter! You probably have just what you need to get baking sooner, without having to buy a cherry pitter.